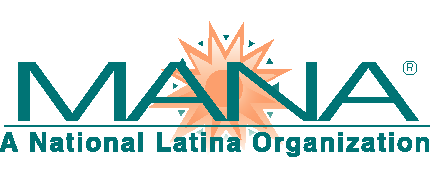 Leadership,

Service, E

ducation,

Advocacy
Empowering Latinas Since 1974
Programs
Community and continuing educational activities are fundamental to the work MANA does year after year.
MANA achieves its mission to empower Latinas through leadership development, community service, education, and advocacy primarily through two premiere initiatives:
The AvanZamos® Initiatives
The MANA adult Latina leadership training programs embody the formula of advancing together, as the name suggests. Networking, information sharing, and best practices are all part of the model to mentor the members and leaders from our Chapters and Affiliates. The AvanZamos® initiative ensures that we are building the leadership structure nationwide, to grow and sustain the organization. MANA remains, at it's core, an organization that serves the community. MANA volunteers share knowledge and resources with their local networks. Our national train-the-trainer efforts and continuing education initiatives provide the resources and training to prepare community volunteers to administer programming locally. Leaders are also able to sharpen their existing skills, build their own resilience and professional skills, and they are prepared to model leadership for those they mentor.
Hermana Conference - This annual event serves as our national leadership development programming for adult leaders. Each year, participants see inspirational speakers, participate in leadership development and educational workshops. The MANA Train-the-Trainer method allows for the materials to be used as turn-key resources for leaders to share with their Chapter and Affiliate members.
​
Latina Savings Project - This innovative project is the newest community education model MANA uses, in partnership with The Women's Institute for a Secure Retirement (WISER), to provide workshops on managing finances and making educated financial decisions, particularly with regards to credit, retirement and homeownership, and encouraging participants to begin saving. The turnkey model allows communities to deliver financial literacy education and, in partnership with local credit unions or banks, help individuals open a savings account to begin saving for short-term needs, with an eye on long-term financial goals.
​
Latinas Count - Civic Engagement Initiative: Latinas are a significant portion of the U.S. demographics and are heads of household, trusted community members, and influential in their homes as well as their communities. 2024 represents a significant opportunity for Latinas to be heard and to impact the well-being of our communities and our nation through voting. This initiative aims to empower Latinas to be counted.
​
Las Primeras® Awards - The MANA Las Primeras® Awards honor Latinas who demonstrate important 'firsts' in their fields with a national impact on the Hispanic community. The achievements of these extraordinary women show the important contributions Latinas make to this country. Las Primeras® serves as an educational program and commemoration of how far we have come as Latina leaders, yet serves as an important reminder of the long road ahead for full inclusion of Latinas in the top levels of leadership in this country.
The HERMANITAS® Initiative
The MANA Hermanitas® Program is a national mentoring program that provides young Latinas ages 11-18 with educational and skill-building opportunities, leadership development, mentoring and peer support. The program is designed with cultural competence and addresses the physical, emotional, social, and intellectual needs of Latina youth.
One-on-One and Group Mentoring - Hermanitas® (Little Sisters) are matched with trained mentors from their home communities referred to as Madrinas®. Madrinas® commit to 110 hours of mentoring and activities over the course of one year. Educational group activities for students and parents provide outlets for additional interaction and skill building.
​
REACH Youth Conference - Students participate in mentoring programming year-round in their home communities and once a year are brought together for a culminating national REACH Youth Conference. Workshops for the girls focus on leadership, communication, identity, goal-setting and other topics relevant to Latinas. An Experiential Day puts focus on real-world applications to the program materials. Influential Latinas from across the United States and diverse professions take time to speak to the participants and provide encouragement.
​